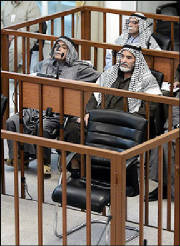 usofa clowns
covered in blood
A S S A S S I N S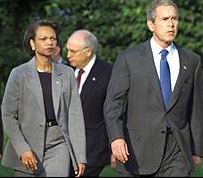 "Whose in charge here. . ."
Saddam's trial: A comedy show
1/28/2006 3:00:00 AM GMT
Instead of a requirement that the Iraqi President's guilt be proved, there is an assumption of Saddam's guilt that pervades the American media.

And there is a very strong reason for that - - it serves as a secondary rationale for the U.S. illegal war on Iraq, with the argument that

"no one can say that Iraq isn't better off without Saddam Hussein." [I can -- "bush bush listen well; we love Saddam Hussein" chanted by thousands of iraqis]
America managed to occupy Iraq and oust its President

in a few weeks,

but it has neither

the international legitimacy

nor the local connections

that might make such a trial

a serious or meaningful affair.